Dear Pajama Day,
My daughter is now five and in her first year of preschool. As the years have gone by, every now and again I get lovely little reminders from the world that she is small — "Small for Gestational Age", "Failure to Thrive", her daily growth hormones, the innocent question, "are your kids twins?" — "Nope, she's 2 years older than him." 
Every season change, when I have to tackle the issue of finding clothes that will fit her or accepting that shorts and swimming suits STILL fit her year after year, break my heart a little.  
So that innocent little note that came home in her backpack last week, "PAJAMA DAY!" Sounds fun, right? My daughter was excited. But a little piece of me felt so sad.
I try really hard to find clothes that FIT her, with the exception of pajamas. I always just take them in. They look so loose and baggy on her. She just doesn't look healthy in them. I think she's oblivious to it. But for me, I worry what other parents must think. Her teacher. Her peers. Do they know she is SGA? Do they know she takes growth hormones? Do they know how hard I try to get her to gain weight?  
So "Pajama Day", while you might be fun for everyone, to me, you're just that little thorn in my side.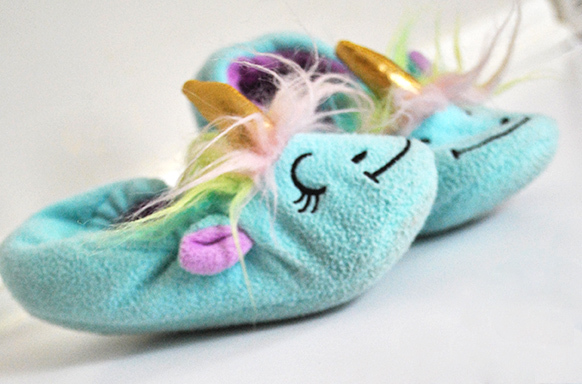 Thank goodness, for amazing rainbow unicorn slippers to put a skip in her step and a smile on my face as I send her out the door.
Thanks for letting me vent,
💙💚 Natalie
Have trouble finding pants for your child? Please check out our line of extra slim pants for kids! www.pantsforpeanuts.com — When Slim-Fit Isn't Slim Enough! 
---